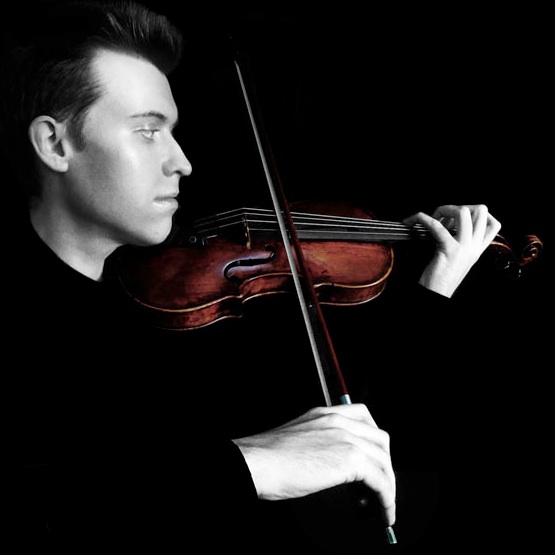 <!>
quotes
"Young virtuoso..."
– The Times
"Very good violinist!"
– Maxim Vengerov
"Great!"
– Sir James Galway
"Lovely playing!"
– Menno van Delft
"Truly gifted."
– Gérard Poulet
<!>
audio player
Saint-Saëns Introduction & Rondo Capriccioso


<!> disc
First Edition CD now available online and instore from Harold Moores Records. <!>
weblog

I was completing the end of the Chaconne in my final masterclass with Gérard Poulet when he announced he had to leave early for an important... Read more

Live music exists for us in the moment and never again... My personal belief is that all acts of interpretation are inescapably contemporary. Here... Read more

It's auction season in London, so expert bow maker Peter Oxley spends his morning carefully appraising the stock and casually hoping for hidden treasure... Read more

I absolutely adore my dressing room here. "Oh, you like it" says the man with the key, "Stay as long as you want! It's yours for three days, so you can... Read more
biography
Alan Parmenter began violin lessons at the age of seven with Donis Albanis, then studied with Ellen Martin of London's Junior Academy. Having been awarded a full choral and music scholarship at Colet Court and St Paul's School, he gained a further scholarship to the Royal College of Music Junior Department to study with Dona Lee Croft. He studied chamber music at Pro Corda, the national school for young chamber music players, for six years.
A Martin Musical Scholarship Fund, Robert Lewin and Geoffrey Shaw award winner, he has participated in Dartington International Summer School, the MusicAlp festival academy at Courchevel and the Cambridge Symposium. He has appeared in masterclasses with Hugh Bean, Rodney Friend, Bela Katona, Yfrah Neaman, Martin Lovett, Gyorgy Pauk, Ruggiero Ricci, Maxim Vengerov, and Reka Szilvay- of the Sibelius Academy.
At nineteen Alan spent a year touring his solo Bach programme in London, France and New York, then, having been awarded an Ash scholarship, he entered the Royal College of Music to continue his studies with the celebrated leader of the New York Philharmonic, Rodney Friend. He graduated in 2007 with a First Class Honours degree.
During the summer of 2007 Alan was invited to join the Academy of St Martin in the Fields for their Mozart festival at the Barbican, and later took part in their extensive tour of Germany.
Since 2007 he has performed as a soloist at the Chelsea Arts Club, Savage Club, Savile Club and London Sketch Club, also the Liberal Jewish Synagogue and the Central, St John's Wood and Hendon orthodox synagogues. Each of these appearances led to a return invitation.
In 2010 Alan recorded his first CD, First Edition, a recital disc with Florian Uhlig on piano. In 2011 Alan was selected as a violin string assessor by Thomastik Infeld, and completed a series of four sold-out solo appearances, in Vienna. Between December 2011 and April 2012 he performed complete solo Bach at London's 20th Century Theatre. In summer 2013 Alan's Bach recital opened the Monmouth Festival.
Alan participated in the 2013 mastercourse week at the Bach Museum Sommersaal, Leipzig. Gérard Poulet admired Alan's playing in the classes, and this admiration led directly to performances with harpsichordist Menno van Delft and with pianist Angela Hewitt at the Altes Rathaus, Leipzig.
Alan plays a violin made c.1710-20 by Mateo Gofriller, Venice.