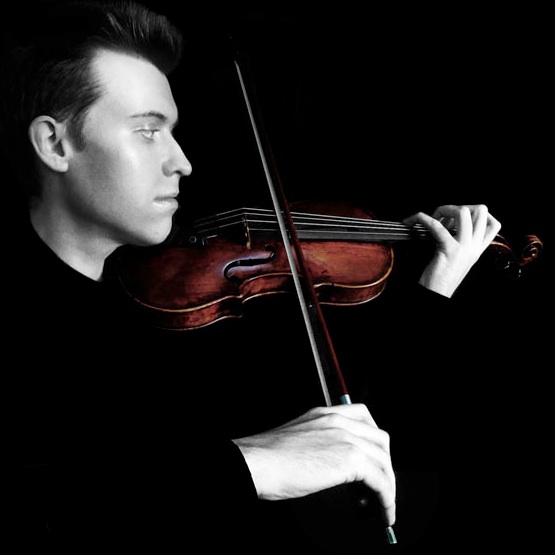 <!>
audio
Sarasate Zigeunerweisen
acclaim
'Superb playing'
– Howard Blake OBE
'Great player'
– Sir James Galway
'Young virtuoso'
– The Times
<!>
biography
Alan Parmenter began violin lessons with Donis Albanis, then studied with Ellen Martin. Having been awarded choral and music scholarships at St Paul's School, he studied with Dona Lee Croft at the Royal College of Music Junior Department as a Junior Exhibitioner. He also studied chamber music at Pro Corda, the national school for young chamber music players.
Alan participated in Dartington International Summer School, the MusicAlp festival academy at Courchevel and the Cambridge Symposium, and won Martin Musical Scholarship Fund, Robert Lewin and Geoffrey Shaw awards. He has appeared in masterclasses with Hugh Bean, Rodney Friend, Bela Katona, Yfrah Neaman, Martin Lovett, Gyorgy Pauk, Ruggiero Ricci, Maxim Vengerov, and Gérard Poulet.
Having been awarded an Ash scholarship, Alan entered the Royal College of Music to study with Rodney Friend. Alan graduated with First Class Honours after five years of study with Rodney, having also participated in Rodney's class at Courchevel summer schools, and having returned to Dona Lee for a final term of her tuition.
As a freelance chamber musician, in demand for string quartets and touring with the Academy of St Martin in the Fields on the invitation of Kenneth Sillito, highlights included the Mostly Mozart festival at the Barbican in London, and a tour of Germany, which included the Beethoven Hall in Bonn, under the baton of Sir Neville Marriner.
As a freelance soloist, Alan has performed several times at the Chelsea Arts Club, Savage Club, Savile Club and London Sketch Club, also the Liberal Jewish Synagogue and the Central, St John's Wood and Hendon synagogues. Each of these appearances led to a return invitation, and Alan's repertoire includes works from baroque, classical, romantic and modern styles.
In 2010 Alan recorded a debut CD, First Edition, with Florian Uhlig at the piano. It was available at Harold Moores records until it closed in 2017. The disc includes both lyrical and virtuosic pieces, recorded at Henry Wood Hall. 'The whole CD is a joy to listen to' – Sir James Galway. Please contact Alan directly if you would like to order a CD for £10 + postage.
Alan performed complete cycles of solo Bach at the 20th Century Theatre, Notting Hill and at the Heatherley School of Fine Art, Chelsea. Alan performed Bach at the Monmouth Festival, at the Altes Rathaus in Vienna, at the Bach Museum and Altes Rathaus in Leipzig. Most recently, Alan performed a solo Bach recital at the Bloomsbury Central Baptist Church.
Alan has performed as violin soloist with orchestra in Barnes, playing Kabalevsky concerto, in Woking playing Sibelius, in Picardie playing Lalo and in Vienna playing Sarasate Zigeunerweisen. Alan is currently learning the Howard Blake violin concerto, 'One of the most radiantly beautiful concertos ever written' – Classical Music.
Alan has been working with celebrated composer Howard Blake to interpret his compositions as closely as possible to how they can be understood beyond the notes. The performance at the end of the 2019, at the Chapel Royal, Brighton, brought critical acclaim as 'authoritative' and 'special' – Fringe Review.
Alan plays a violin by Mateo Gofriller, Venice.