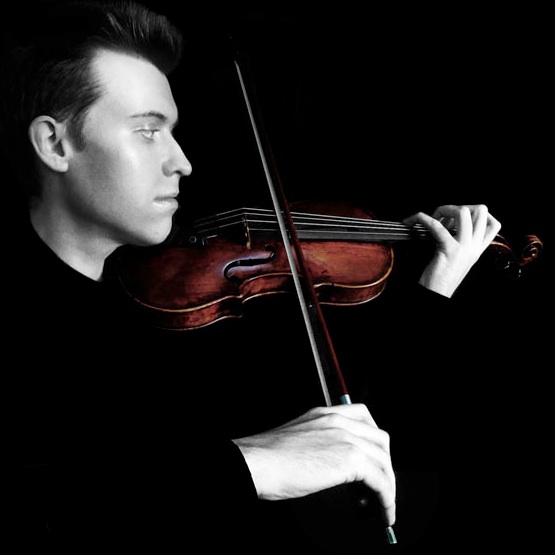 <!>
Music
Johann Sebastian Bach Adagio for solo violin
Quotes
''A joy to listen to''
– Sir James Galway
''Young virtuoso Alan Parmenter''
– The Times
<!>
Biography
Based in London, Alan Parmenter has brought the sound of his violin to life for the enjoyment of audiences across the UK and beyond.
In 2010, Alan recorded his first album, 'First Edition', with lyrical pieces for violin and piano by Elgar, Fibich, Part and Dvorak, as well as virtuosic works by Sarasate and Saint-Saens.
Alan prepared a complete performance of Bach's solo violin works for a series of concerts in London: 'Parmenter plays Bach', 2011. Alan revisited these works for 'Bach in Bloomsbury', 2018.
In demand as a soloist, Alan has performed with orchestras in the UK, France and Austria: Mendelssohn in Bath, Lalo in Picardie, Elgar and Sarasate in Vienna. In London, Alan has performed Bach, Vivaldi, Bruch, Kabalevsky and Sibelius.
Alan was a music scholar and music prize-winner at St Paul's School, and was chosen to perform in the presence of HRH Prince Charles. Emanuel Hurwitz awarded Alan the Senior String Prize.
At the Junior Department of the Royal College of Music, Alan won a Junior Exhibition scholarship for entry to the Saturday school, and a Highly Commended prize from Hugh Bean.
Alan studied violin privately with teachers Donis Albanis, Ellen Martin, Dona Lee Croft and Rodney Friend, and in public masterclasses with Maxim Vengerov, Ruggiero Ricci, Gyorgy Pauk, Bela Katona, Yfrah Neaman, Hugh Bean and Gerard Poulet.
Alan won an Ash Music Scholarship to Imperial College and the Royal College of Music, and graduated from the Royal College of Music with First Class Honours in 2007. He was also awarded Martin Musical Scholarship Fund, EMI Sound Foundation and Musicas awards.
Alan plays a fine Italian violin by Mateo Gofriller, made in Venice 1710~20.